Axonis is advancing breakthrough drug discovery in neuroregeneration to develop groundbreaking gene therapies for spinal cord injury, and other currently incurable neurological disorders, making a real difference for patients, their families, and global healthcare system.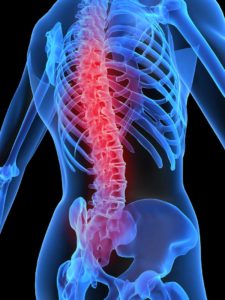 Regeneration of corticospinal axons that control hand movements
Spinal cord injury (SCI) is a devastating and life changing medical condition that affects over seventeen thousand people annually in the United States. SCI leads to permanent paralysis, loss of sensation below the level of the injury and loss of bladder, bowel and sexual function. The best hope for recovery is to regenerate damaged connections, but there currently is no treatment to achieve this end.
The Scientific Breakthrough
In 2008, Dr. Zhigang He and collaborators at Harvard discovered that regeneration of central nervous system (CNS) connections can be achieved by blocking a key enzyme that normally shuts down growth of the nervous system after development is complete (phosphatase and tensin homolog, PTEN). A subsequent proof of concept study in 2010 in rodents with spinal cord injury established that the approach enables regeneration of the critical pathway that controls voluntary movement (the corticospinal tract or CST). Follow-up studies by Dr. Oswald Steward and colleagues at the University of California Irvine documented that CST regeneration could be achieved using a viral vector delivery system that could be used in any species and demonstrated that regeneration is sufficient to restore upper extremity function in rats with cervical spinal cord injury. Dr. Kai Lu, lead author on the study in Dr. He's lab, then went on to show that PTEN inhibition can enable regeneration of CST axons in the chronic injury setting, potentially expanding the potential market for this therapy. All of this work was published in top-tier scientific journals.
Axonis is a biotechnology company with a goal to harness this scientific breakthrough to develop a novel therapy to enable regeneration and recovery of function in people who have suffered SCI. Axonis's pharmaceutical research efforts are to complete development and GMP manufacturing of a vector suitable for use as a human therapeutic and carry out IND-enabling studies that would bring the therapy to the point of a first in human clinical trial. The initial trial would involve people who have suffered SCI at the cervical level with the goal of restoring upper extremity function. In addition to greatly improving quality of life, regaining use of upper extremities would eliminate the need for an assistant for daily living skills, drastically reducing long-term health care costs. The biotherapeutic we envision would truly be life-changing for people who have suffered SCI.
Axonis Patents & Licensing
Axonis has licensed the patents covering PTEN inhibition (iPTEN) technology in the entire human nervous system, including spinal cord injuries and other CNS disorders. The patents cover the United States, Europe and Canada.