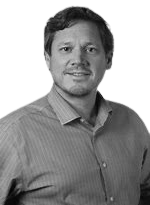 Scientific Advisor (KCC2 & Pain)
Dr. Yves de Koninck is a Professor of Psychiatry & Neuroscience at the University of Laval, Quebec, where he studies the physiological, pharmacological and anatomical bases of the transmission of signals between neurons. Dr. De Koninck also holds positions as Director of Research, Centre intégré universitaire de santé et de services sociaux (CIUSSS) de la Capitale-Nationale; Scientific Director, Quebec Mental Health Institute; Director, Neurophotonics Centre; Canada Research Chair in Chronic Pain and Related Brain Disorders; and Founder of the Quebec Pain Research Network.
Dr. De Koninck's primary scientific interests are in neuroscience, nociception, peripheral nerve injury, neuropathic pain and chemical mechanisms associated with the integration of sensory signals in the spinal cord, specifically those related to the transmission of pain influx. He has expertise in synaptic physiology, biophysics, in vivo and patch clamp electrophysiology, cellular imaging in brain slices, confocal and non-linear microscopy, optical super-resolution, fiberoptics-based applications, optogenetics, noise analysis and computational approaches.