Excitation/Inhibition (E/I) imbalance within neuron circuits is a pathological hallmark of various neurological disorders, including epilepsy, autism and CNS injuries. Modulating neurons to restore E/I balance can rescue brain functions.
RESTORING E/I BALANCE
KCC2 is a CNS-specific chloride transporter that enables neuron responses to inhibition. After injury to the CNS, KCC2 is downregulated leading to E/I imbalance within the spared neurons. Without KCC2, these neurons no longer respond appropriately to inhibitory inputs, causing dysfunction in CNS neuron circuits. Treatments that enhance KCC2 restore E/I balance and rescue functions in CNS injury models (e.g. traumatic brain injury). However, no KCC2 drugs exist on the market.
KCC2 ENHANCER DRUG: A PIPELINE WITHIN A PRODUCT
A KCC2 enhancer drug represents a pipeline within a product because KCC2 mutations are often found in E/I disorders, for example, epilepsy and autism spectrum disorder. In addition to CNS injuries, the therapeutic benefits of KCC2 enhancement have also been shown in animal models of chronic pain, epilepsy, and Rett syndrome. AXONIS Therapeutics KCC2 enhancers do not have sedative effects, like other anti-convulsant drugs on the market.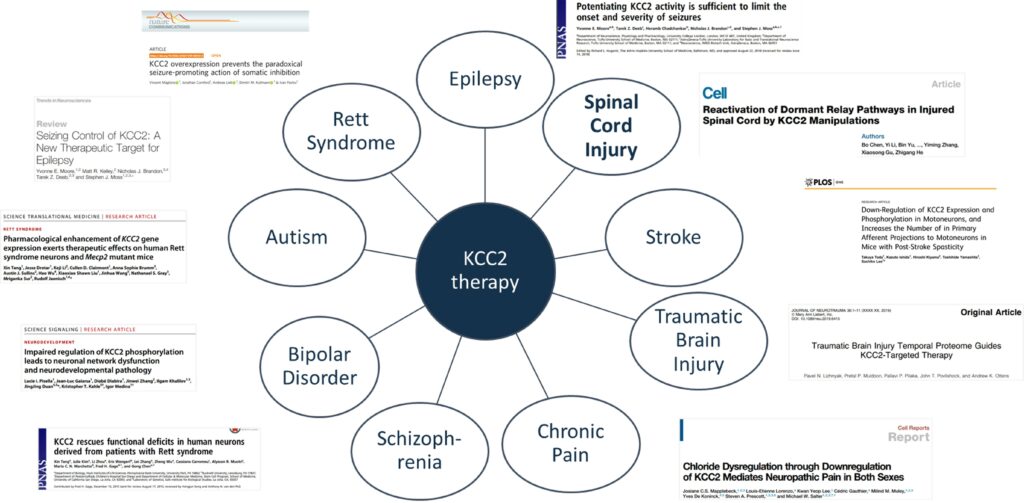 MULTI-MODAL, KCC2 NEUROMODULATORY THERAPIES FOR SPINAL CORD INJURY
The majority of spinal cord injury (SCI) patients have spared tissue, even those that are completely paralyzed. These spared neurons are dysfunctional due to an E/I imbalance caused by the injury. In 2018, a groundbreaking in vivo screen of neuromodulatory drug-like compounds in paralyzed mice discovered that KCC2 treatments reactivate these neurons to restore stepping ability after a severe SCI (published in Cell). Our lead program is advancing a first-in-class oral KCC2 enhancer drug with multi-model therapeutic action that improves mobility, and alleviates chronic pain and spasticity.
In addition to our new KCC2 enhancer small molecule drugs, AXONIS Therapeutics has a complimentary AAV-KCC2 therapy which achieves similar levels of treatment efficacy in animal models. This one-and-done gene therapy has the potential to persistently restore E/I balance in neurological disorder patients.